Bryant Iowa Heating and Cooling provides new design, installation, and complete service of radiant floor heating systems in Ankeny, IA, and the surrounding areas. Whether you're considering radiant flooring throughout the whole home or in specific rooms, we create a solution that's perfect for your needs, budget, and goals. Our dedicated technicians work closely with you, keep a clear line of communication, and ensure a rewarding process. Every stage is handled properly, with meticulous attention to detail but without aggravating delays.
With Bryant Iowa Heating and Cooling, you're investing in more than just a service; you're choosing unmatched expertise and dedication. Radiant floor heating offers homeowners both comfort and efficiency, especially during those cold Ankeny, IA winters. Our knowledgeable team stays updated with the latest advancements in the field, ensuring you receive a system that's both modern and durable. Our mission is simple, we prioritize 100% customer satisfaction every time.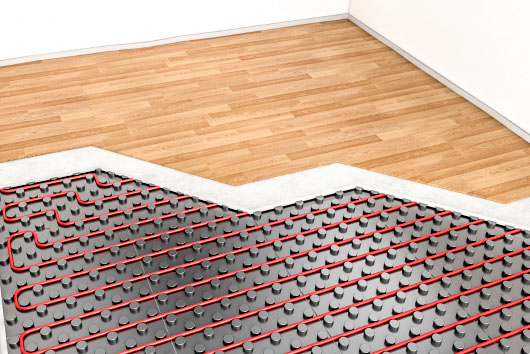 Expert Radiant Floor Heating Services
The benefits of radiant floor heating are unmatched. The equipment is entirely concealed beneath the floor, never detracting from aesthetics or hindering the placement of furniture. It operates silently, and as a closed system, doesn't bring in air contaminants. The heat is spread evenly from wall to wall, rises gradually, and warms all surfaces in the room. You'll set lower thermostat settings, pay less every month, yet feel perfectly comfortable on the coldest days anywhere across Ankeny, Saylorville, Polk City, Bondurant, Johnston, Urbandale, Altoona & Pleasant Hill, IA.
Give our team a call for all your radiant floor heating installation and service needs!
As a Bryant Factory Authorized Dealer, Bryant Iowa Heating and Cooling is proficient in radiant floor heating technology, enjoying affordable access to industry-leading innovations, thereby ensuring top value from your investment dollar. Reach us at (515) 963-5311 to learn more. Our unwavering commitment to the quality of products and workmanship makes us the prime choice for the installation and service of your radiant floor heating system. It's your home. It's your comfort. You're all that matters.